Happy Roaring 2020's to all of you!
Having spent the last few days working on the inners of TMD, it's now a bit more easy to do event statistics than in the previous years (link, and link).
A few years ago, when the last major overhaul of the data engine was created, I got rid of self-classification of events by the organizers and replaced that with more metadata – mostly to avoid false classification of events, and also to add more details so dancers would know better what to expect, especially with new events popping up everywhere.
However: this posed some challenges to analyze the data, especially since we still think in the categories of events like marathons, encuentros or festivals. Since this is TMD (a.k.a. Tango Marathon Directory) the best data quality and quantity we have are marathons.
For 2019 we have 259 events in the database. Not every event is listed, and thus this is based on what we have.
I have written a script to auto-classify them based on the entered data, and use of certain tags and terms. It's far from perfect, but that's what we have for now 🙂
| | |
| --- | --- |
| Marathon | 110 |
| Weekend & Other | 87 |
| Festival/ito | 42 |
| Encuentro | 19 |
| Camp | 1 |
These events are happening all over the year, but not every weekend is filled equally with events: there are some months with more events, like September.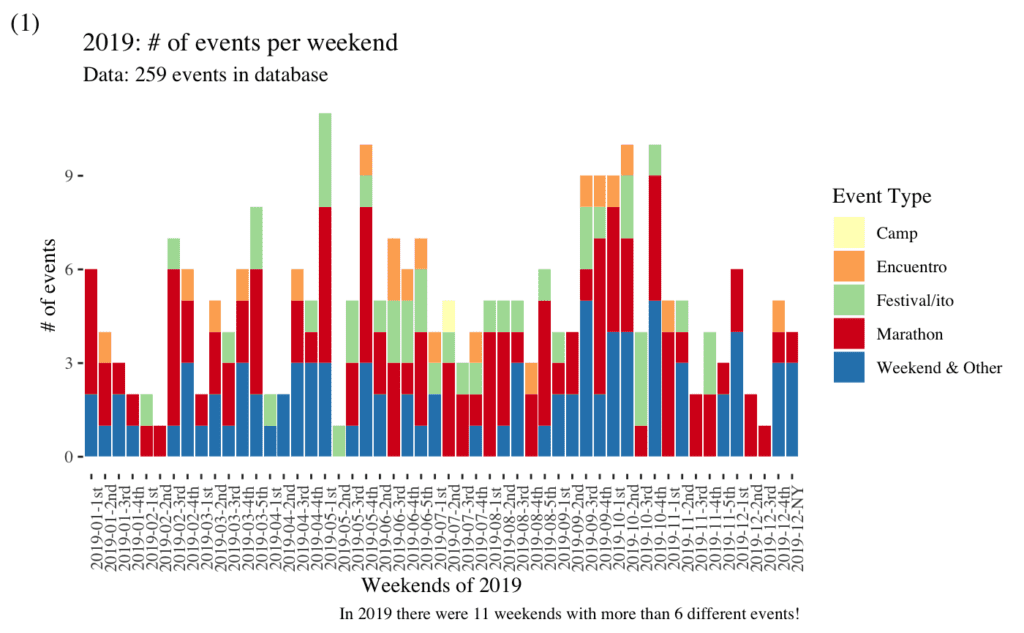 Looking at marathons in detail, you will see that there are a few weekends with no marathons, but also some weekends with "too many" events. It would be good for organizers to take that into account when creating new events.
Where are all these events located? Most events we have listed in TMD are from Italy and Germany, with many more countries… even China, Japan or the US.