Note: to see more details you must login
Summary
| | |
| --- | --- |
| Weekend | 4th week / Jun 2023 |
| Start | Fri 23-Jun-2023 |
| End | Sat 24-Jun-2023 |
| Registration Start | optional / Mon 08-May-2023 |
Summary provided by OpenAI - there might be some errors:
Roma Tango Fiesta is the longest festival in the world, taking place all summer long. It includes milongas, classes, workshops, shows, and special events in Rome center, on the beach, and on the lake around Rome. Roma Tango Fiesta & Summer Tango Academy is an event that celebrates the passion and culture of tango in Rome. It features seminars with excellent teachers, milongas with the best DJs, and cultural events. The event aims to create a space where tango can grow and spread in a healthy and beautiful way, while respecting and cultivating the culture and history of tango. Summer Tango Academy offers Tango lessons for beginners and intermediate-advanced level students with the best Argentine Tango teachers in Rome. The program includes workshops, milongas, and special events throughout the summer. A series of tango events and workshops taking place in Rome throughout July and August, including milongas, workshops for intermediate and beginner levels, and a closing party on the beach. The event is about private tango lessons in Rome, where individuals can learn new steps, improve their technique and musicality, and deepen their connection in the embrace. The event also offers discounted packages and the availability of Argentine tango shows in all areas of Rome. The event organizers also mention that milongas have a limited number of seats, and once the maximum number is reached, the entry will be closed.
---
Roma Tango Fiesta – The longest festival of the worlds…. All the summer long!
Milongas, Classes, Workshop, Show, Special events in Rome center, on the beach and on the lake around Rome!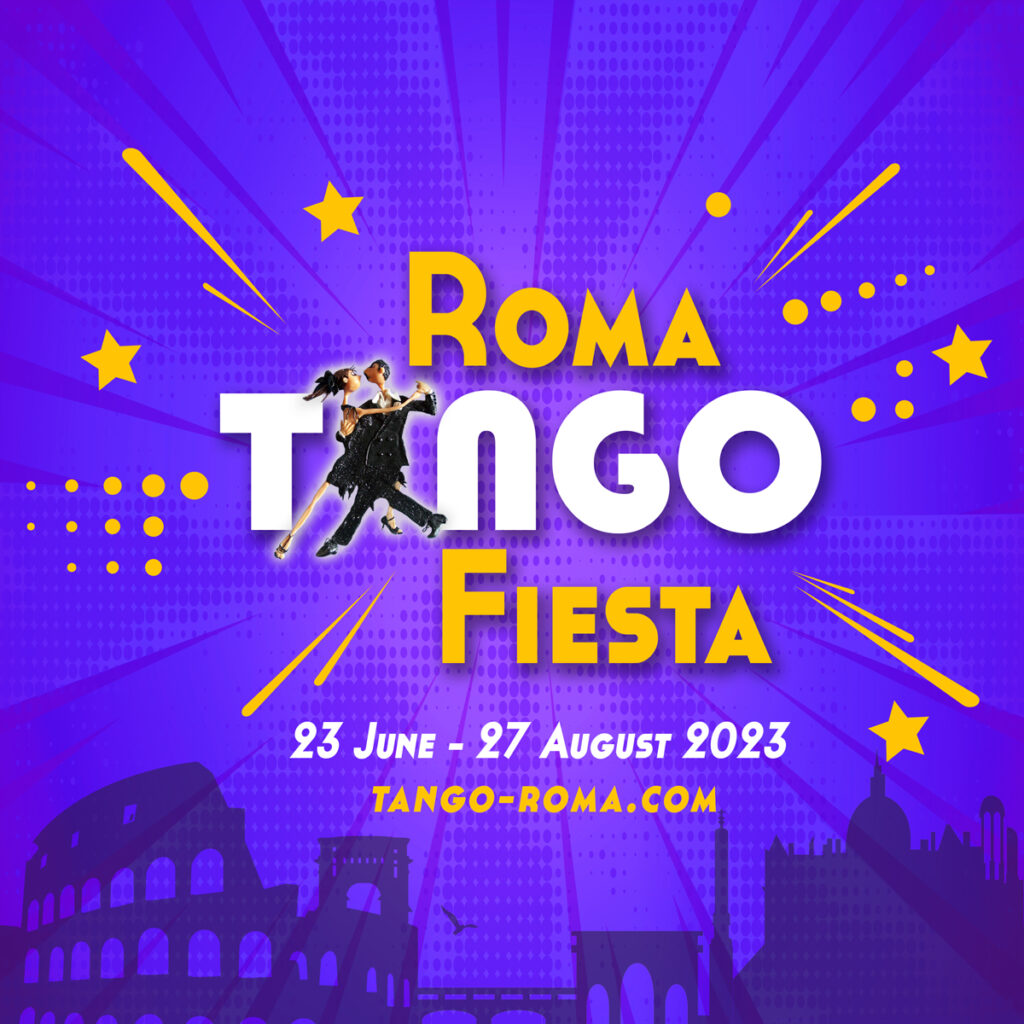 login for more
» Please log in to read all about: Roma Tango Fiesta »
| | |
| --- | --- |
| Price | |
| Individual Milongas? | yes |
| Tickets avilabe for Milongas? | yes |
| | |
| --- | --- |
| Number of people | |
| Role balanced? | no |
| Number of hours of music | |
| | |
| --- | --- |
| Registration | optional / Mon 08-May-2023 |
| Start | Mon 08-May-2023 |
| Invitation only? | no |
Type
Included?
Food & Drinks
Services
Hotel
Shopping

shoes for followers

shoes for leaders

clothes for followers

clothes for leaders